THEME 1: Enabling Large-Scale Space Development & Human Expansion
John Mankins, Theme 1 Chair and member of the National Space Society Board of Directors, set the stage by discussing limitations of current space states-of-the-art and opportunities for improvements.
Franklin Chang-Diaz, PhD, six-mission astronaut who spent 66 days in space and is now CEO of Ad Astra Rocket Company, participated by Skype and discussed the practicalities of living and working in space.
James Powell, PhD, retired physicist from Brookhaven National Laboratory and inventor of both the most advanced nuclear thermal propulsion (NTP) rocket, the Particle Bed Reactor (PBR), and also of superconducting MagLev (magnetic levitation) now in advanced development in Japan was not able to attend in person. His work was presented by John Mankins and John Rather.
Michael Houts, PhD, Nuclear Research Manager for NASA's Marshall Space Flight Center and the principal investigator for NASA's Nuclear Thermal Propulsion (NTP) project, discussed NTP and the Y-12 Kilopower, small nuclear power plant, project.
Joel Sercel, PhD, well-known physicist focused on development of space resources and founder of TransAstra Corp, discussed the capture and uses of small asteroids.
| | | | | |
| --- | --- | --- | --- | --- |
| John Mankins | Franklin Chang Diaz | James Powell | Michael Houts | Joel Sercel |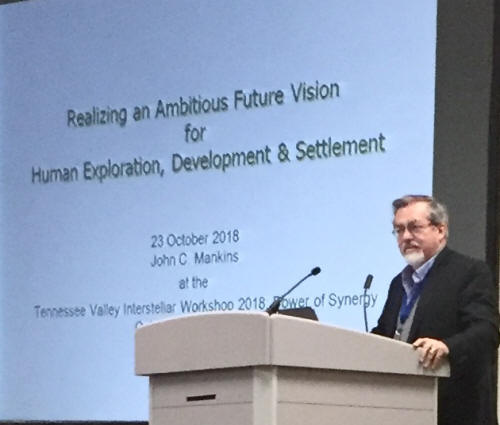 John Mankins Opening Theme 1

THEME 2: Catalytic & Affordable Synergistic Breakthrough Concepts & Technologies

Jason Derleth, Theme 2 Chair and Program Executive in charge of the NASA Innovative Advanced Concepts (NIAC) program, set the stage by discussing the NIAC program and its relation to the concepts and technologies of this Theme.

Jonathan K. Witter, PhD, Chief Engineer for BWXT's Advance Technology Programs, talked about Particle Bed Reactors (PBR) and their history of testing in the 1990s.
Roger Lenard, the DoD Timberwind PM for the PBR testing, discussed the history of that project.
Philip Lubin, PhD, professor of physics at UC Santa Barbara and director of the NASA Starlight program, discussed directed energy propulsion and power beaming.
Robert Bagdigian, NASA's Deputy Chief Engineer for the Human Exploration and Operations Mission Directorate, discussed environmental control and life support for space missions.
William Peter, PhD, Director of DOE's Manufacturing Demonstration Facility (MDF) at the Oak Ridge National Laboratory (ORNL), discussed large-scale 3D printing and complex structures and the possibility of using lunar or asteroidal regolith in 3D printing.
Jeffrey Slostad, Director of Strategic Missions at Tehters Unlimited Inc., discussed the in-space manufacturing supply chain and a service chain built around water as a key resource.
Mark Carter, PhD, Senior Vice President of Technology Development for Ad Astra Rocket Company, discussed the VASIMR plasma propulsion system.
Ken Roy, an engineer in Oak Ridge, discussed the affects of low gravity on human physiology and a possible solution using superconducting MagLev technology.
Siegfried Janson, PhD, senior scientist at Small Satellite Concepts group at The Aerospace Corporation, discussed Brane Craft (fabric space craft) and smart propellants.

| | | | | |
| --- | --- | --- | --- | --- |
| Jason Derleth | Jonathan Witter | Roger Lenard | Philip Lubin | Robert Bagdigian |

| | | | | |
| --- | --- | --- | --- | --- |
| William Peter | Jeffrey Slostad | Mark Carter | Ken Roy | Siegfried Janson |


Jason Derleth Introducing a Speaker
THEME 3: Transformative Decadal Plan

Matt Hollingsworth, Theme 3 Chair and CEO of Carta Healthcare, set the stage by discussing how technology development is funded - or not.

James T. Early, PhD, retired from Lawrence Livermore National Laboratory (LLNL), discussed how the technologies fit together to accomplish the plan.
John D. G. Rather, PhD, the President of RCIG, listed and discussed the synergistic technologies and concepts. He focused on methods for capturing small (10 meter) asteroids passing through cis-lunar space and the many uses of these asteroids.
John Mankins, President of Mankins Space Technology and member of the National Space Society Board of Directors, discussed the critical nature of space solar power and presented a design for arbitrarily large phased array, hyper-modular solar power satellites.
Dean S. Hartley III, PhD, Principal of Hartley Consulting, described the integration requirements for the decadal plan, starting with the goal of reaching Mars by 2030 and emphasizing the multiple areas of deconfliction that are required in such an integration (YouTube video).

| | | | | |
| --- | --- | --- | --- | --- |
| Matt Hollingsworth | James Early | John Rather | John Mankins | Dean Hartley |


Theme 3 Panel

THEME 4: Ultimate Paths to the Future (Science Fiction to Fact Relationships)

Catherine Asaro, PhD, Theme 4 Chair and noted Science Fiction author, set the stage by discussing plausible approaches to extend human populations into the solar system and beyond, including the possibility of circumventing the light speed barrier through complex speed, introduced in her paper in the American Journal of Physics.

Marc G. Millis, Tau Zero Foundation, described the nature and history of breakthrough technologies and the implications for future breakthroughs.
David Brin, PhD, scientist, inventor and New York Times bestselling author, participated through Skype, discussing options for future destinations and the possibilities of modifying their environments or modifying ourselves, either biologically or through cybernetic means.
Arlan Andrews, Sr., PhD, founder of the Science Fiction think tank, SIGMA, was physically unable to attend; however, his slides and speaker's notes were presented by Catherine Asaro. Andrews discussed repurposing asteroids and presented a valuation metric, called the Pournelle Value, equalling the annual world production of a particular metal.
Ruth E. Kastner, PhD, professor of Philosophy of Physics at the University of Maryland, College Park, described the Transactional Interpretation of quantum mechanics.
Buck Field, Professional Ethics and Information System consultant, discussed the history of revolutionary concepts from cosmologies to quantum interpretations.
Allen M. Steele, noted Science Fiction author, participated through Skype, discussing the evolution of starships in Science Fiction.

| | | | | |
| --- | --- | --- | --- | --- |
| Catherine Asaro | Marc Millis | David Brin | Arlan Andrews, Sr. | Ruth Kastner |

| | | | | |
| --- | --- | --- | --- | --- |
| Buck Field | Allen Steele | | | |


Catherine Asaro Introduces Theme 4
SYNTHESIS - RECAPITULATION

Dean Hartley closed the symposium with a review of the presentations (YouTube video).

Discussions included the following Technology Enablers:

Propulsion and Transportation

Nuclear Thermal Propulsion
VASIMR
Chemical propulsion
Photonic propulsion

Power

Nuclear
Solar
Photonic Power Beaming

Materials and Uses

Lunar regolith and asteroid materials
Additive manufacturing, solar concentration, superconductors

Environmental Control and Life Support
Synergies

The nature of the presentations can be characterized by the following:

Each presenter was passionate about his or her presentation

The science needs to be tested
The engineering needs to be tested
The results for each option must be compared with the results from the other options for cost, efficiency, synergy, etc.

Other technologies are relevant

We have gathered the best that we could find
We may have missed identifying some
Some may be missing because presenters for them were unable to attend the symposium

We are advocating for broadened technology developments to

Open the option space
Benefit from synergies

A Sense of Wonder is deserved

"There are more things in heaven and earth, Horatio, than are dreamt of in your philosopy"

Hamlet I.5: 159-167
We know a lot
But there is more we don't know

Science Fiction permits

Search for novel technologies
Examination of ramifications
Gedanken experiments
Exploration of concepts
Demand for Loopholes


Dean Hartley Closing the Symposium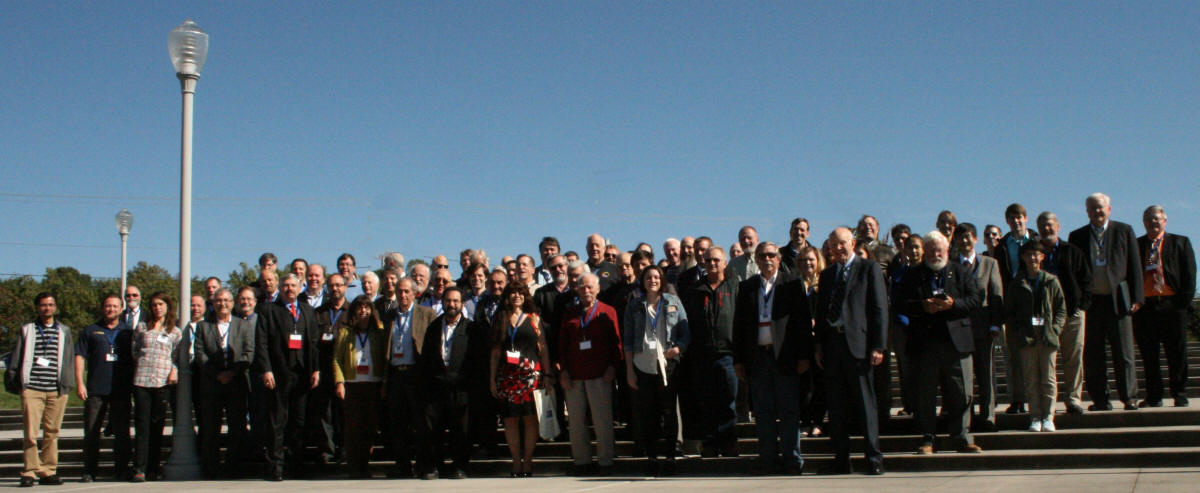 Participants (most of them)
CONCLUSION
Themes 1 through 3 discussed the possibilities for accomplishing the goal for reaching Mars by 2030. The figure below shows nominal time frames for the goals of operating in cis-lunar space, using the lunar surface and the Mars voyage. The "Wait" times don't mean "do nothing," but involve supporting efforts. The "Test" times don't mean "do nothing else," but emphasize test activities. The "Use" times don't mean "we are finished," but emphasize using what we have learned and tested.
Theme 4 discussed going beyond a Mars mission, making a critical point that we should not stop at Mars.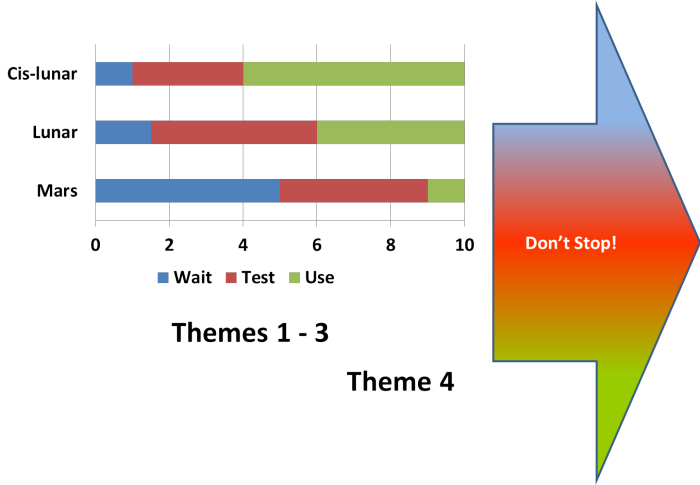 ---
If you arrived here using a keyword shortcut, you may use your browser's "back" key to return to the keyword distribution page.

Return to Hartley's Projects Page
---